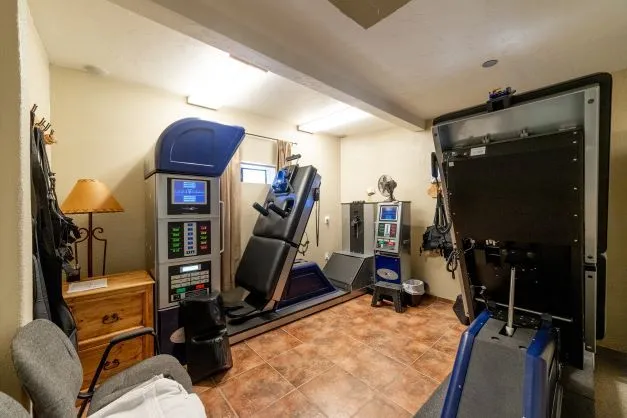 For those of you with bulging or herniating discs, who have had previous back surgery or have been told you need to have back surgery, or if you've tried physical therapy, pain management, drugs or general chiropractic care without success – consider spinal decompression therapy and progressive spinal rehabilitation. We can assure you that it is a very safe and effective treatment. When you are determining what office to choose for your spinal decompression needs, there are several factors that you should consider: technology, the doctors' experience, safety and effectiveness of treatment and how well the doctor educates you on your condition and treatment options.
First and foremost, you must look at the technology of the equipment used. Our office uses the most advanced form of spinal decompression therapy equipment – the DRX9000. Through the years, we have gained a lot of knowledge about how to best utilize the equipment, and by developing proven procedures to give patients the best chance for a successful outcome.
Not only have we seen spinal decompression therapy work very effectively on patients, but we also have personally benefited from using it as well. We believe in our treatments, and we also believe that if we are treating the right patients – based on their real needs – we will have a very high success rate (approx. 86%-90%) in treating their problems. Our passion is to educate patients. We don't want you to just come in and get treated – then leave and not know why we did what we did. But we want you to understand what's going on in your body and learn why we are treating you with a particular procedure.
We stand out in this respect by offering everyone a FREE consultation and FREE 1st treatment. It's also our goal to help you understand what's wrong and what treatment options you have in order for you to make a wise decision about your health care. We believe that if a doctor will sit down and listen to their patients, they can gain a great deal of insight in finding out what's wrong with them. That's why it is HUGELY important to us that on your first visit, we will sit down and talk with you personally to determine your problem and then talk about a treatment plan that will be specific to you. We love helping people improve their health so that they can live a full, more enjoyable life. The goal is that you leave the office thinking "no doctor has ever spent that much time with me or educated me that much about what's going on with my body". We would love the opportunity to meet with you and see if we can help you!